We are a group of experienced industry professionals who have a simple vision to provide great service and good value to our Customers whilst fully supporting our Growers and Suppliers around the world.
We are totally committed to working fairly, ethically and sustainably with everyone that we work with however large or small.
We will ensure that fair returns are paid to all of our suppliers, on time, every time and that all of our relationships with both Suppliers and Customers are open, honest and fair.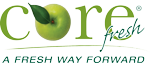 COREFRESH

A commitment to quality & customer service, working with the UK's leading farms, and growers worldwide, developing mutually beneficial relationships for all we
work with.